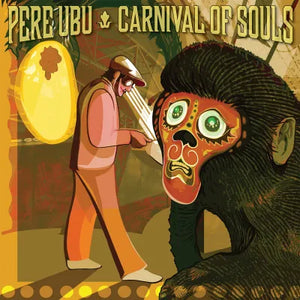 Pere Ubu - 'Carnival Of Souls'
Regular price
$25.00
$0.00
Unit price
per
Tax included.
Shipping
calculated at checkout.
Carnival of Souls was conceived in the midst of a gruelling tour schedule that accompanied the release of Lady from Shanghai. The band performed a live underscore for a screening of the 1962 movie that gives the new album its name at the 2013 East End Film Festival in London.
A 'shock troops' version of the band went on the road in the UK and Europe to evolve those ideas into songs, improvising entirely new sets of music around core themes each night. On the road, the frayed nerves of the group meant they would switch from a whisper to a scream at any given moment, provoking each other, egging each other on and occasionally erupting as if in violent rebuke, before moments of gentle, bittersweet reprieve – an extraordinary work resulted.
Transporting from relentless speed to weightlessness, noir riffs to drums pounding hoodoo grooves, each track offers a different experience.
The CD version of the album includes 'Brother Ray,' described as a twelve-minute prequel to Nathanael West's The Day of the Locust. On the vinyl version, five one-minute 'Strychnine Interludes' are woven through the album. Built around shortwave interference, a deconstructed garage riff and secret morse code transmissions, these interludes underline both the otherworldliness of the songs and the album's credentials as a song cycle.
Any purchase of Carnival of Souls made through the Fire website will include a download* consisting of all of the tracks listed above. This sequence is unique and as detailed above, is different to that of the CD and LP sequences. There is also a 100 page book 'Cogs' on the making of Carinival Of Souls available to order form our site by clicking on the link to the left.
*Attention, this word from David Thomas: "The graphic says '320kbps audio' but this is an artifact that can't be altered. Sorry. In the past 6 months I have spent an inordinate amount of time studying the regions beyond human hearing. With the recent advances made in LAME 3.99 (the MP3 encoding Unix software), I decided that some of the new esoteric software settings serve our music better than sticking with 320kbps CBR, which I had previously insisted on. I am satisfied and Fire has been accommodating with keeping up with each advance I make."
---