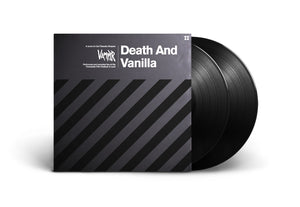 Death and Vanilla - 'Vampyr'
Regular price
$26.00
$0.00
Unit price
per
Tax included.
Shipping
calculated at checkout.
It's 1932 and Danish film director Carl Theodor is making a movie of a grim tale for both French and German audiences. To get over the language barrier he decides to have the majority of dialogue on silent movie title cards.
Imagine the scene, you're sleepy, you're in a strange house, you doze. You wake with as a man places a package on the table with a note instructing it should be opened only on his death. He vanishes.
Inevitably you're lured to a castle, the man is shot, you open the package, it's a book about horrific demons called vampyrs. The castle is manned by servants – there are also two sisters (one with bite wounds, the other in a trance-like stupor), a doctor and an old woman complete the cast. There's a blood transfusion to save one of the sisters followed by a dream like sequence where you're buried alive. It's a cliff hanger, we'll leave it there…
Some 70 years later, what's needed is a band who used to rehearse above a cemetery in Malmo to play live on Hallowe'en at the Fantastisk Filmfestival, Lunds Stadsteater. One year to the day later, they release the music in a now super rare limited edition of 150 blood red cassettes.
Enter "lush and enveloping" (© The Wire) Death And Vanilla.
Now re-issued as a double vinyl package, 'Vampyr' is full of "eerie haunted ambience" (©The Guardian), an atmospheric and spaced out 78 minutes that galvanizes Moog, glockenspiel, zither and vibraphonette in a beautiful piece of claustrophobia, a timeless slice of suitably scary sound filled with an unnerving sonic vibe that sticks in the psyche.
But beware, they walk among us.
"The retro leaning Scandi duo fire up their Moogs and mellotrons, sonic archaeologists with a hauntological bent.. there is an alluring sexiness to their avant-Kraut Moog-pop excursions." Uncut
"Recalling the eerie, haunted ambience of Angelo Badalamenti/Julee Cruise's Twin Peaks soundtrack, Stereolab/Broadcast's experimental vision of '50s lounge muzak/exotica and French '60s pop, or the narcotic country-noir of Mazzy Star." The Guardian
---